Spectacular firework displays are a perfect way to ring in the new year. These pictures are some of the spell binding displays from around the world…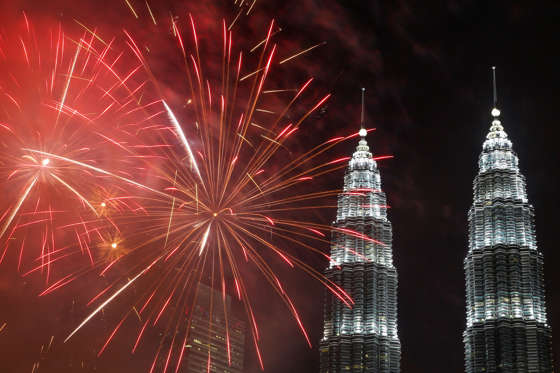 Kualar lumpur,Malaysia; Fireworks explode in front of Malaysia's landmark building, Petronas Twin Towers.
Jakarta, Indonesia; People gather to enjoy fireworks during a countdown event to celebrate the New Year.
Paju, South Korea; People take in the New Year fireworks at the Imjingak Pavilion, near the border village of Panmunjom
Hong Kong, China;The city's skyline lights up with multi-hued fireworks. The Victoria Harbour is the center of action.
Hong Kong, China; Bright red sparklers light up the city skyline.
Taipei, Taiwan; Fireworks explode from the Taipei 101, the country's tallest skyscraper.
Singapore; Marina Bay, located in southern Singapore, lights up with a spectacular display of fireworks.
Singapore; Fireworks explode over Marina Bay against the skyline of the city.
Sydney, Autralia; The traditional family fireworks show on Dec. 31, 2015.
Sydney, Autralia; The Sydney skyline comes alive during this year's NYE celebrations.
Sydney, Autralia; This is one of the first places in the world that celebrates New Year's Eve each year.
Sydney, Autralia