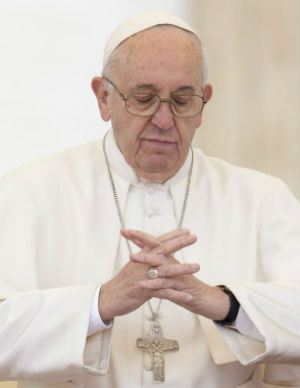 Pope Francis celebrated his New Year's Mass at St. Peter's Basilica, where he asked for an end to all wars as his New Year wish.
  "Today we celebrate the World Day of Peace," Pope Francis began. "whose theme is 'overcome indifference and win peace.'"
The pontiff stared into the crowds gathered at St. Peter's Square in the Eternal City and spoke from the heart.
Many believe the enemy of peace is war, but Pope Francis gently reminded his audience "indifference makes one think only of oneself and creates barriers, suspicions, fears and closure."
The pontiff then asked people to open their hearts to those who are in need, as "This is the way to win peace."
He spoke against the "arrogance of the powerful," which demeans the weak, "relegating them to the most squalid outskirts of our world."
"We are witnessing hordes of men, women and children fleeing war, hunger and persecution, ready to risk their lives simply to encounter respect for their fundamental rights," he added.
"Let ourselves be reborn, to overcome indifference which blocks solidarity," the pontiff urged; "and to leave behind the false neutrality which prevents sharing."
"The grace of Christ," he added, leads people to "building an evermore just and fraternal world, a world in which every person and every creature can dwell in peace, in the harmony of God's original creation."